Are you an entrepreneur, freelancer or student interested in learning more about the tech & startup scene in NYC?  
Great!  But where do you start?
Join us on our second Startup Tour NYC on Tuesday, September 27th as we formally introduce you to the NYC tech scene and startup ecosystem.  You will connect with fellow startups & technologists, meet "movers and shakers" in the NYC community, explore different resources and networks that can help your business or career and listen to great leaders in the space talk about their experiences building their ventures in New York.  As a bonus, you'll also meet & interact with members of different startup communities visiting NYC that same day (Philadelphia, NJ, etc.) as well as local college students who are either launching new ventures or looking to work for a startup.
Our goal is to help each attendee learn how to navigate and work with NYC startup & business community now and in the future.
**PLEASE NOTE – this event starts at RISE New York in Midtown Manhattan (43 West 23rd Street), but will end at Galvanize in  Lower Manhattan (315 Hudson Street).  Each session will take place at a different venue in Lower or Midtown Manhattan.  Lunch will be on your own with other attendees at Chelsea Market.  Transportation between venues throughout the day will be via walking or by motorcoach bus depending on distance (greater than 10 blocks = motorcoach transfer)**
Who is this for?
Founders and startup teams involved with early to growth stage ventures
Local mentors, technologists and press interested in exploring connections to the NYC startup scene
Students interested in starting or working for a startup
What's the agenda?
Morning:  Check in at 9:45am
Program begins at 10:00am
Private fireside chat interview with a Silicon Alley insider
Opportunity to share your current work, needs & questions with local mentors & investors in NYC
Connect with other members of the NYC tech & startup scene local evening networking event
PROGRAM & ITINERARY:
Session 1:  Intro to the NYC Tech & Startup Scene (approx 10:00am-11:00am), hosted by RISE New York
Interested in hearing more about where NYC Tech is today and where it's going?  How about a better understand of the opportunities available to you as an entrepreneur in New York?  Join us for a fireside chat and discussion with Silicon Alley insiders who will give us the "scoop" on what's happening and how we can get "in!"
Session leaders will be announced shortly.
Session 2:  NYC Mentor Exchange & Brainstorm (approx 11:30am-1:30pm), hosted by RISE New York
Looking for insights into how "insiders" view various startup verticals and define growth?  Do you need advice on how to solve business challenges you may be facing in your own venture?  Mentor Exchange and Brainstorm fuses the best parts of a panel discussion with topic driven breakout sessions.  First, mentors from local incubator, accelerators and consultancies briefly share best practices & advice on how to build successful ventures in New York City.  Then, each panel member will host a breakout session on topics the group wants to discuss based on a vote of attendee suggestions.
Panelists include:
Panelists will be added as they are confirmed.
Lunch Session:  Mix & mingle with your fellow attendees at Chelsea Market over lunch (approx 2:00pm-2:45pm)—
Session 3:  Peer Startup Pitch Checkup (approx 3:00pm-3:30pm, onboard bus enroute to Session 4)
How clear is your professional pitch to other people (customers, partners, investors)?  Whether it's for your own career or that of your business, your message is central to your success.  As we travel together to our Investor panel and evening networking session, you will work in small groups with your peers aboard the bus to answer the hard questions about you, your venture and your goals.
Session 4:  Investor Insights Roundtable (approx 4:00pm-6:00pm) hosted by Data Future Labs
Seeking best practices on fundraising for your startup?  Or are you interested on how investors source, filter and approach potential investments?  Let your curiosity run free at our Investor Insights Roundtable, where Venture Capitalists who invest in early stage companies discuss how to best prepare for fundraising and trends in investment.  Following the 45 minute panel, you'll have time to meet with the panelists after the event.
Panelists include:
Session 5:  Evening Networking Event & Activity (approx. 6:30pm-8:30pm), hosted by Galvanize NYC
Our friends at Galvanize will host us for an evening of networking and fun.  More details to follow.
OUR VENUE SPONSORS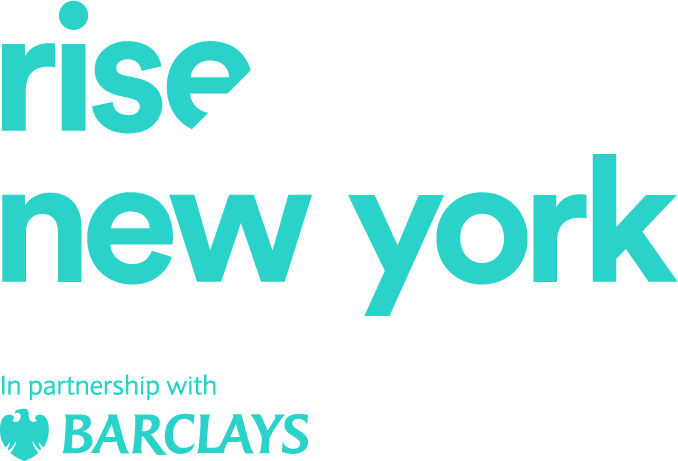 Rise New York
 is part of a global community of the world's brightest thinkers and doers creating the future of financial technology. We listen, nurture and oxygenate through our international network of Rise spaces, and connect, co-create, and scale innovation, in partnership with Barclays. Rise New York also houses a world-class event space and is home to the U.S. cohort of the Barclays Accelerator, powered by Techstars.

Galvanize is an education company that blends the lines between learning and working. We believe in creating easy access for anyone who has the drive and determination to jump into the tech world, especially in entrepreneurship, engineering, and data science. Our campuses are home to students, startups, investors, mentors, and other people who are engaged and excited to level up their skills. To learn more about Galvanize, visit http://galvanize.com.
TERMS AND CONDITIONS
Refund Policy: No refunds or exchanges are allowed. You may transfer your reservation to another person, but the request AND approval of the transfer must be made via email to CoTo Travel at least 3 days prior to the event. No Exceptions.
Registration Questions: Part of the experience is connecting members of our community at our events. In order to provide the best possible matches and pairings that meet your needs and interests, we require you to answer a series of questions when reserving your seat. We ask you to describe the problem you need help with and the people you'd like to meet. Our goal is to provide a safe environment for the exchange of ideas.
Please note that the answers you provide will NOT be used by CoTo Travel or our affiliates beyond the scope of our service and related programs. In line with legal standards, we ask that you only share information that you are legally allowed to disclose to the public. If you encounter any questions that may require you to violate this request, please DO NOT proceed with the registration.
Service Disclaimers: Please note that the itinerary, locations and equipment to service this event is subject to change at any time. Should the event be cancelled for any reason, you will receive an email communication announcing the cancellation and a full refund within 3 business days of the announcement. Cancellation by CoTo Travel is the ONLY grounds for a refund.