In this Learn to Code workshop, you'll learn the essentials of HTML and CSS, both of which combine to make up the tools of virtually all web design.
What You'll Learn:
• The foundations of HTML (structure, elements, tags, implementation)
• CSS (attributes, selectors, the box model, page layout)
How to Prepare:
– Bring your laptop, fully charged (bring your charger just in case)
– Install the Atom text editor if you don't have a text editor. Go here: https://atom.io/
– Install Google Chrome (any browser will do, but Chrome can do some cool things): https://www.google.com/chrome/browser/desktop/
Prerequisites:
None!
About your Instructor:
Robert Murray, Galvanize Instructor Sr. Full Stack Developer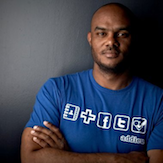 About Galvanize:
Galvanize is an education company that blends the lines between learning and working. We believe in creating easy access for anyone who has the drive and determination to jump into the tech world, especially in entrepreneurship, engineering, and data science. Our campuses are home to students, startups, investors, mentors, and other people who are engaged and excited to level up their skills. To learn more about Galvanize, visit galvanize.com.