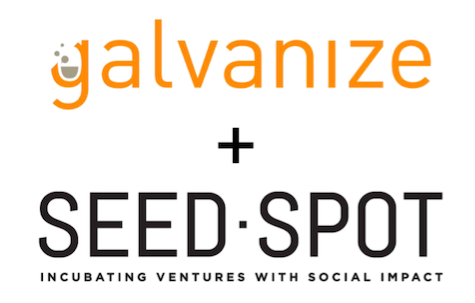 Galvanize and SEED SPOT are excited to present an exclusive, one-night screening of GENERATION STARTUP, a new feature documentary that follows six recent college graduates building startups in Detroit. We are hosting this event to share this inspiring look at moving outside our comfort zone with others in Phoenix.
For more information visit: www.generationstartupthefilm.com
After the screening we will host a discussion and Q&A with local visionary, Dan Tyre from HubSpot!
YOUR HOSTS:
Galvanize is a dynamic tech learning community that offers education, workspace and networking for students, startups and large companies. Galvanize teaches web development and data science to students, offers support and workspace to over 700 member companies and provides over 200 networking events across nine urban campuses throughout the nation. Galvanize campuses bring together entrepreneurs, students, investors, mentors, and great people and companies to develop the skills, mindset, and networks necessary to thrive in a technology driven world. To learn more about Galvanize, visit http://galvanize.com or like us on Facebook: https://www.facebook.com/GalvanizeHQ or follow us on Twitter @Galvanize.
SEED SPOT is a nonprofit organization with a mission to educate, accelerate, and invest in entrepreneurs who are creating solutions to social problems. We fundamentally believe that everyone has a seed of an idea inside of them, but very few have the courage to pursue it. SEED SPOT was named for that reason, as the spot where courage could be found and seeds of ideas could grow into organizations and companies that change the world.
YOUR VENUE:
We're pleased to host this event at Mod- the brilliant new way to work on the go!