Learn to Code: Complete Websites
Whether you wish to develop web pages or simply want more control over posting content to the web, an understanding of web development is an invaluable skill set. This 8-week workshop focuses on both the technical and design-related skills needed to create fully responsive web sites for screens, tablets, and mobile devices. Using HTML5 and CSS3, you'll design and implement at least two fully functional websites. You will also receive personalized feedback throughout the development process from your instructor and classmates to assist you in creating the best websites you can, even if it is your first attempt ever.
This workshop is the perfect starting point if you aren't familiar with coding. Both technical and design skills are covered in this workshop teaching you how to code HTML/CSS websites for yourself and clients. Having a strong foundation with HTML/CSS can also be very useful before joining the Galvanize Full Stack program.
---
What You'll Learn:
Week 1: Building the Foundation with HTML, code editors, and web hosting
Week 2: Learning to style HTML with CSS
Week 3: Building Common Web Page elements like Headers, Navigations, and Footers
Week 4: Completing a full web site using grid-based columns for page layouts.
Week 5: Building responsive web pages from scratch
Week 6: Utilizing the development power of frameworks like Bootstrap
Week 7: Learning the basics of PHP to create functional contact forms and running a local web server
Week 8: Polishing up previous development work with advanced CSS techniques
View what past students, with no previous web coding experience, have created in this workshop in just a few short weeks: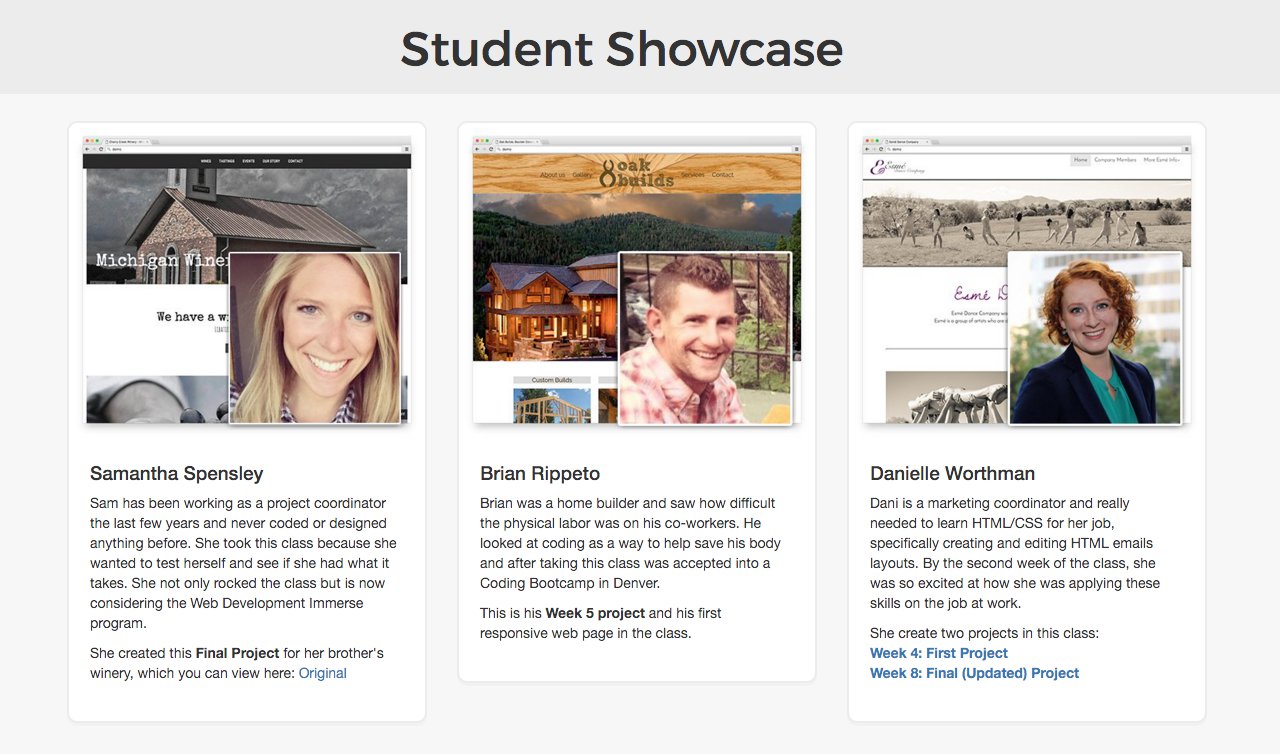 ---
Who Should Take this Class?
This workshop is for anyone interested in learning how to design and code your own web pages using HTML/CSS in the most efficient ways possible. Typically, we find there are three categories of students:
Hobbyist: Come and test the waters and see if working with web design is something you enjoy.
Future Web Designer: You know you want to build a web page for yourself or for someone else and you need the skills to do so.
Future Web Development Immersive Student: The skills learned will strengthen your ability to use JavaScript within a web browser, and your knowledge of web design will enhance your time in our Web Development Immersive Program.
---
Tuition Credit
Zero to Web Designer & Javascript Foundations
100% of 1 workshop payment, or 75% of both workshop payments can be used as tuition credit for our Web Development Immersive in the following cities: San Francisco, Seattle, Austin, Boulder and Denver. For these cities, candidates must enroll in an Immersive that begins within 1 year of the completion of their workshop(s). Candidates can take the workshop in any city.
---
Workshop Dates:
Tuesday & Thursday
6:00pm – 8:00pm
_______________________
Week 1: Mar 28 & 30
Week 2: Apr 4 & 6
Week 3: Apr 11 & 13
Week 4: Apr 18 & 20
Week 5: Apr 25 & 27
Week 6: May 2 & 4
Week 7: May 9 & 11
Week 8: May 16 & 18
---
Prerequisites:
No previous web programming or design skills are required.
---
Setup:
Both Mac and Window laptops are acceptable.
---
Questions
If you have questions, or simply want to makes sure that this workshop is for you, please reach out to us at enrollment@galvanize.com
---
Refund Policy
-Cancel more than 48 hours before first class: Full Refund (minus processing fee).
-Cancel within the first week: Charged for 1 day of class, and reimbursed the remaining fees paid for the workshop.
-Cancel after first week: Can apply cost to different program, no refund.
Please contact enrollment@galvanize.com for more details.